Skinny dipping …..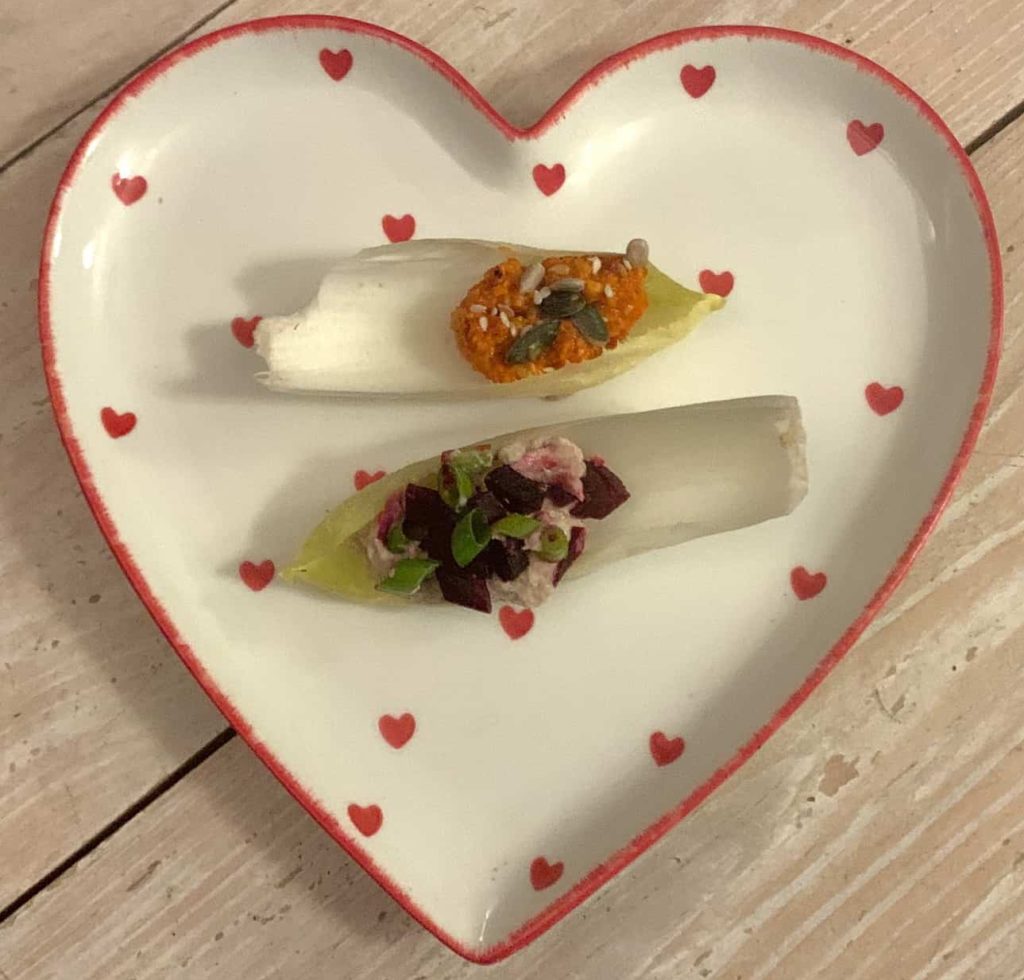 Skinny dipping….. with friends
With Christmas around the corner it is always useful to have a few friendly recipes up your sleeve – so to speak – that you can pull together for gatherings and unexpected visitors! And even better if they are recipes that are kind to your waistline as well to your guests.
I really enjoy creating sharing platters & starters that can be more informally enjoyed – before supper or just with drinks. The idea of dips is a good one – easy to make and to share, everyone can help themselves and there is minimal washing up! You can prepare these 2 favourites in advance and both work with lots of fresh veggies – to dip dip dip. Depending on what you have available – endive, carrots, radishes, part-cooked tenderstem broccoli, celery, baby gem lettuce – your guests will enjoy literally 'digging' in!
Smoked Mackerel Pate with horseradish – topped with beetroot & spring onions – is a great recipe. Peppered mackerel fillets, mixed with half fat cream cheese, crème fraiche & horseradish to a 'dipping' consistency. Can be made well advance and frozen and then ready for use at anytime!
Romesco Dip – roasted red peppers with toasted almonds, sherry vinegar and olive oil. A beautiful red dip with a wonderful, slightly gritty texture and deeply delicious with endive leaves, toast or with roast chicken!
Enjoy the recipes below – and share your 'skinny dips' with friends & family. A perfect way to get ready for all the festive frolicking.
SMOKED MACKEREL PATE with horseradish
200-250 g smoked peppered mackerel fillets skinned
2 tbsp cream cheese, half fat
1tbsp crème fraiche, half fat
juice of quarter or half a lemon depending on your taste
1 tbsp horseradish cream
salt & pepper to taste
3 ready cooked beetroot (not in vinegar), finely chopped
4 spring onions, finely chopped
1. Using a food mixer, break up mackerel fillets and add remaining ingredients and mix to a dipping consistency. Adjust seasoning and pour into bowl, or into tupperware for freezer.
2. Before serving top with finely chopped beetroot & spring onions
ROMESCO DIP
100g blanched almonds
200g roasted red peppers from a jar, drained
1 garlic clove
1 tbsp sherry vinegar, + extra to season (optional)
1 tsp smoked paprika
50ml olive oil
1. Toast the almonds in a dry frying pan for 3-4 mins until starting to turn golden and smelling toasted. Shake the pan often to turn them. Tip out and leave to cool.
2. Drain the red peppers and tip into a food processor with the almonds, garlic, vinegar and smoked paprika, then blitz to a chunky paste.
3. With the motor still on, slowly drizzle in the olive oil to make a dip. A bit of texture works well for this rather than blending to a super smooth consistency. Season well, adding a little more vinegar, if you like.
For more ideas and recipes – come and join me at my regular cooking demos. Informal groups of up to 8 people, around my kitchen table, tasting and chatting. A 2 course lunch/supper is included along with welcome coffee & homemade cakes, recipes to take home and lots of inspiration!
".... my bouquet was so beautiful and looked that you had picked every flower from your own garden. My bridesmaids loved their posies and the button holes were perfect and you could really smell the sage - as you said we would! Thank you for all your fantastic help. "
Claire, a country-style summer wedding
".... thank you so much for being in my kitchen last night and giving us such a fantastic dinner. You really allowed me to spend time with my guests and enjoy the night before my son's wedding. All the family were so relaxed and we all particularly loved your puddings! "
Louise & John,
a pre-wedding supper
".... a quick note to say thank you for an excellent meal on Tuesday – delicious food, efficiently delivered and enjoyed by all of us.  It was lovely to enjoy good food at home, rather than in a noisy pub or restaurant – and we couldn't have danced to 1960s Italian pop songs outside the house either!"
Nicky, family dinner party
".... OMG the birthday cake you made for me was amazing. My friends and colleagues ate it all! The raspberry and passion fruit filling was delicious and the little petals and flower heads were so pretty. Please can I order 2 more for when my family come to stay next weekend?."
Jo, a decadent birthday cake